West of England & Wales Congregation




Welcome to our congregation! Since the congregation was first formed, religious services have been held in various places. At the moment, services are still held not only in Swansea, but also in Bristol, and in the last few years have started in the island of Guernsey as well. We hope in future to organise services in Cardiff too. Unfortunately, because of the present circumstances, services in each of these places take place only a few times a year.

For information about the services at the following venues please contact the pastor or chairperson. Alternatively, further information on times and dates in Latvian is available here.

Where to find us

Bristol
Church of the Good Shepherd
Bishop Road
Bishopston
Bristol
BS7 8NA

Representatives - Rasma and Arvīds Sermuliņi
Tel. 0117 924 6321




Swansea
St. James' Church
Walter Road
Uplands
Swansea
SA1 4QF

Representative – Benita Līkums
Tel. 01792 541 124


Guernsey
The Town Church
Church Square
St. Peter Port
Guernsey
GY1 2LD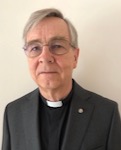 Very Revd.
Dr. Andris Abakuks
Pastor
abakuks@ntlworld.com



Andris Tauriņš
Chairperson
Tel. 01873 852 107
andy.taurins@gmail.com